Les artistes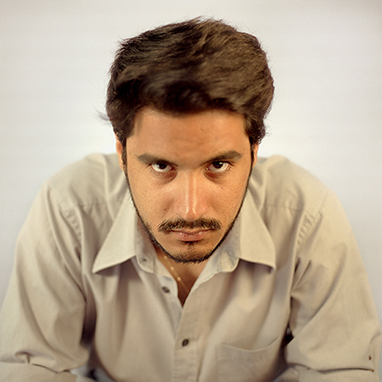 Nicolas VALMONT

Born in 1987 at St-Denis (Reunion Island)

Nicolas Valmont studied at the Higher School of Art in Reunion and obtained the DNSEP (Higher National Diploma in Artistic Expression) diploma in 2011. Since then, he has mainly worked on both still and moving images, sometimes transforming video into still image or conversely transforming photography into moving pictures. What he is interested in is the play on the ambiguity between presence and absence inside images, and projecting them onto a predefined space. Even though there is manipulation and switching of perception from one to the other, the artist actually never acts directly on the image, which, according to him, has the ability to 'contribute a past reality' to a space as we see it now. This is why he refers to his work as a space for recollection.
The pioneers of the desert

installation

At the end of the 19th century, the construction of the port of la Pointe des Galets in Reunion saw the birth of the city of Le Port. From 1879 to 1886, 8000 workers of various origins took part in the building work : Egyptians, Indians, Somalis, Madagascans, Reunionnese etc. They were commonly referred to as 'the pioneers of the desert' and their various histories have been largely neglected, overshadowed by that of more eminent persons. The interest shown in individual stories and the study of their day-to-day existence places the work of Nicolas Valmont in the category of research aimed at examining popular history rather than the history of 'great men'. This work on memory is a homage to the men who turned this huge rocky plain into a port and who were in fact the first citizens of le Port.