Les artistes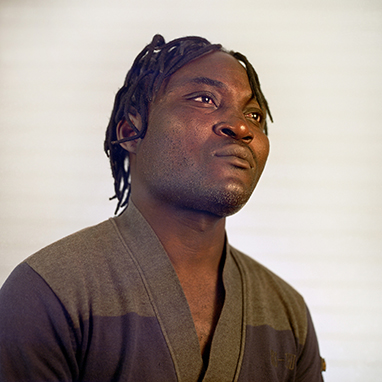 Mega MINGIEDI TUNGA

Born in 1976 at Kinshasa (Democratic Republic of the Congo)

A graduate of the Academy of Art of Kinshasa and the ESAD of Strasbourg (renamed the Higher School of Art of the Rhine), Mega Mingiedi Tunga is an artist who is sensitive to the environment around him. For over five years, he has been working on the urban environment, on imaginary cities and maps, producing drawings, collages and installations. He is a very committed artist, and was member of the Eza-POSSIBLES group in Kinshasa, a group of artists whose aim is to bring contemporary art closer to the day-to-day existence of the people of Kinshasa. He has already taken part in a number of exhibitions and residencies in various countries.
The house in Reunion

installation

A very temporary type of architecture, the 'case', or house, in Reunion, is a type of dwelling that can be found all over the island. The term also actually covers all types of housing. Made out of wood, tin or even straw, the house is generally built using local materials or even recycled materials, applying very simple construction techniques and symbolising a place of refuge. The house of Méga Mingiedi is seen as reference point, being both a space for demonstration and a place of exchange. The space is dedicated to a video projection of performances given during the residency that touch on the issue of environmental awareness.