Les artistes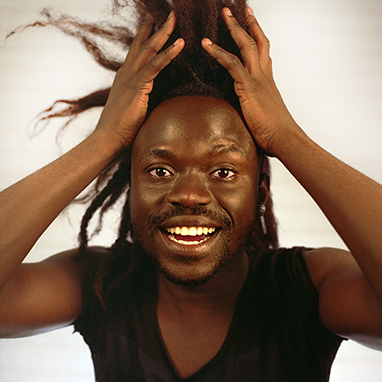 Alain POLO

Born in 1985 at Kinshasa (People's Republic of the Congo)

Alain Polo is an artist, a photographer and video-creator who studied at the Academy of Art in Kinshasa, from where he graduated in 2006. He set up the association intitled SADI (Solidarité des Artistes pour le Développement Intégral : Solidarity between Artists for Integrated Development). Its work consists in urban performances aimed at creating awareness in the poorer districts of Kinshasa. Alain Polo explores fashion trends in order to examine the notions of identity and social representation. In 2012, he exhibited in Dortmund (Germany) and in Paris in 2011 (France) for the Paris Photo event.
Once upon a time, hairdressing and me

installation, photographs and performance

Based on images, Once upon a time, hairdressing and me is a work based on the popularity of codes of representation governing the star system. The artist becomes an icon and his body an instrument. The artist also questions the images of others, as well as those of his friends, sent all around the world through Facebook. The Internet has become a medium for creating stars.
A true decoration or fashion accessory, hair is part of our clothing and also contributes to our representation of beauty. The image of the superstar is developed, right down to the ends of his or her hair.